Occupational therapists love to create obstacle courses because we can carefully engineer a fun way to address a child's individualized goals.  An ideal obstacle course offers a balance between a child's preferred activities and ones that offer challenge.  Providing various levels of opportunities for a child within an obstacle course makes hard work a fun experience!
Obstacle courses are a great way to address:
muscle strengthening
balance & coordination
motor planning
fine motor skills
ideation & pretend play skills
When putting an obstacle course together think of your child's strengths and challenges. What are their sensory preferences?  Keep in mind the importance of incorporating heavy work and deep pressure activities, as these are the secret sensory ingredients that help children remain organized and on task.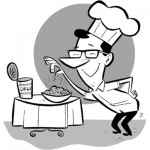 SECRET SENSORY INGREDIENTS
The ingredients listed below are ones that are organizing and calming for all children, so they can be added into any obstacle course you are creating.
Steamroller!  The child lies on the floor on his belly and using firm pressure, an adult rolls a large therapy ball up and down his body for deep pressure input.
Heavy work! Moving heavy objects or putting away heavy things.  Incorporate lifting books, photo albums, bags of flour or sugar, newspapers, etc.
Animal walks! Crab walk, bear walk, or wheel barrow walk; all which provide intense joint compression.
Hide n Seek! Hide objects within a couch so the child needs to work to move and lift the cushions to find them.
Any sort of pushing, pulling, carrying, lifting, stacking, bending, crawling, creeping, stomping, clapping, marching, tugging, squeezing.
Below is one delicious recipe that focuses on the development of foundational handwriting skills.
Capital Letter Soup
This recipe focuses on learning the proper formation of capital letters, which is important for the development of good handwriting habits. Both tactile and kinesthetic (use of body movement) experiences are incorporated to help learn the strokes of each letter.
Ingredients:

Couch cushions and/or blankets
Capital letters written on small index cards
Shaving cream
Dark colored construction paper to tape on wall
Big bowl of water
Hand towel
Serves: Pre-k and Kindergarten children
 Directions:
Hide the letters under blankets or between couch cushions and have child search to find one.
Using the letter picked, the child will jump on the floor in the proper sequential formation of the letter (remember: "always start your letters at the TOP!").   **If your child needs a visual model to guide their movement make the letter for them with jump ropes or toilet paper.
Have the child tip toe over to the wall where they will form the letter with their finger tip in shaving cream on a piece of construction paper placed just above shoulder height
Child will then dip hands in a bucket of water and dry with a towel.
Holding the child's legs they will walk on their hands (wheelbarrow walk) back to the starting point. 

Repeat steps 1 through 5
Stay tuned for more fun obstacle course recipes!
– Sari Ockner OTR/L & Lauren Stern OTR/L
 Lauren Stern OTR/L  is a colleague and friend that lives and manages a private home-based occupational therapy practice in New York City
,
New York