I walked into a classroom last week, a progressive classroom of mixed grades and ages that meant children of mixed sizes. The particular 7 year-old student that I was working with was sitting in an almost adult sized chair, the same seating that was more appropriate for his older and taller classmates. Needless to say, his feet were dangling in the air and the table top was too high for him.
When it comes to positioning our kids at their desks please know:
One size does NOT fit all!
In 2004 Smith-Zuzovsky and Exner conducted a study on the effects of seated positioning on object manipulation skills (i.e. pencil use, scissors). Their findings suggested typical developing 6 – and 7 – year old children's fine motor skills were affected by the quality of the child's seating. So, when it comes to our special needs kids, many of which present with low muscle tone, decreased endurance, challenges with body awareness, and attention issues they are faced with a bigger struggle when they do not have the appropriate supportive seating at their desks. Physically their bodies are exerting much more energy to just sit upright in their chairs and pay attention in order to complete the required work.
As an occupational therapist, I find it is important (and often overlooked) to first address the ergonomics of a child's workspace when starting treatment .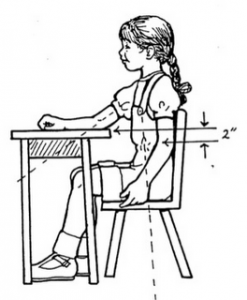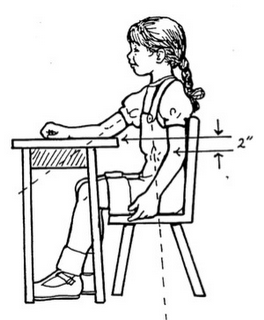 The first thing to look at when assessing a child's workspace is how they are sitting on their chair.  Think 90-90-90. Ninety degrees of hip flexion, ninety degrees of knee flexion, and feet flat on floor with ankles at a ninety degree angle. The desk surface should be at about 2-3 inches above their elbow (measure when elbow is bent down along the side of their body) and their shoulders should be relaxed.
Parents, as you may see at home, some of our kids get tired during homework, their work is messy, and it can be challenging to get the work completed. Let's look at their workspace. Are they sitting at a high counter top on a bar stool? Or an adult-sized desk? If so, think about modifying his/her environment.  Place a wooden stepstool, phone books (I usually bind them with electrical tape to make them sturdier) or a milk crate under their feet to create a stable base.  If the tabletop is too high then try placing an air wedge cushion or folded towels on the chair to lift your child so they are in a more comfortable position in relation to the surface of the table.
For the home setting, I almost always recommend the adjustable table and chairs from Community Play Things to set up in a quiet area conducive for homework. The great thing about this table is that it will grow with your child.
Let's set our children up for academic success by starting with good positioning in their workspaces!
– – Sari Ockner, OTR/L
  Like
Kidz Occupational Therapy on Facebook
Follow on
Twitter @Sari_KidzOT