Individual Therapy Sessions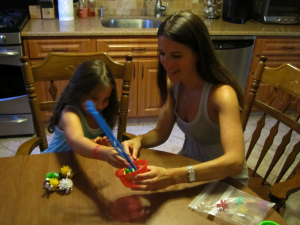 Following the initial evaluation, Sari will make a recommendation for the appropriate frequency of occupational therapy sessions to address your child's goals.  Treatment goals established will continually be re-assessed and changed to best suit your child's on-going needs.  Sari will use a variety of treatment techniques to target problem areas.  Remember these activities will often appear as play in order to entice your child to strengthen their areas of need.
Sari's philosophy is to help children meet their goals so they can be successful participants in school and in other areas of desired importance.  Once these goals are met, Sari helps you and your family to provide the tools your child needs to be successful when they graduate from OT!
At times clinic-based sessions will be recommended if larger therapeutic equipment is not available in the home for children with gross motor and significant sensory integration needs.
Treatment sessions are 50-minutes one on one with your child followed by a 10-minute discussion with the parent(s) to review the session and suggest activities for home-carryover between sessions.